It was a big day for the ESRF but, in particular, the delivery of the very first girder for the EBS saw the culmination of over 18 months' work for ESRF mechanical engineer Thierry Brochard. As the 6-tonne, Ferrari-red device was minutiously lowered by crane into its new home in the ESRF's Chartreuse Hall, the pride on his face was palpable.
"I started working on the girder in 2015," he explains. "Since the prototype girder arrived in April 2015, we've been carrying out vibration, motor control and alignment tests (see Good Vibrations and Heavy Metal articles). We sent out the call for tender in December 2015, signed the contracts in May 2016 and less than five months later, it's here!"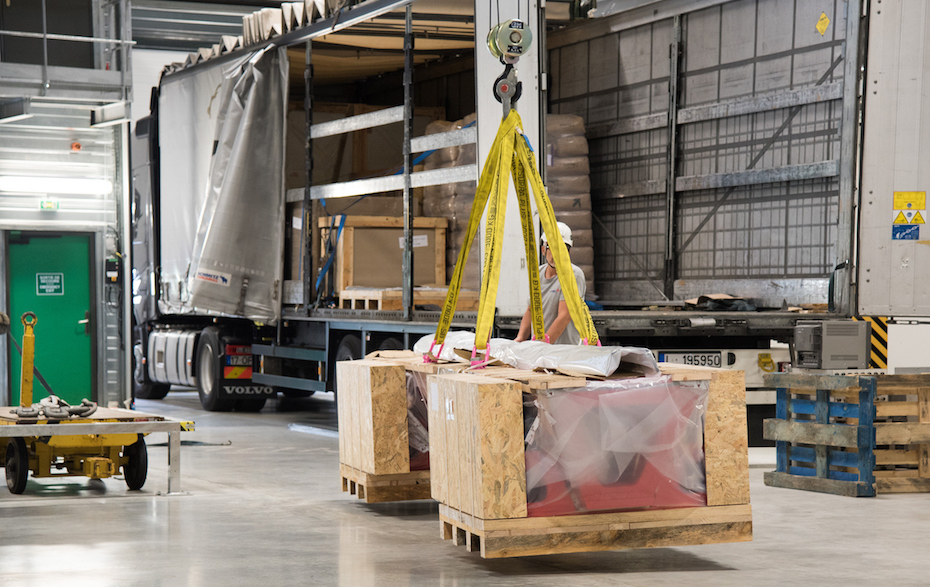 The 5m-long girder was carefully manoeuvred into place in the Chartreuse Hall under the watchful eye of the EBS Logistics team @C.Argoud
The girder is the first of 65 to be delivered in batches over the coming months from Spanish company Nortemecanica (another 65 are being manufactured by Spanish company, AVS). As Thierry set about checking the precious cargo had not suffered any damage during its 16-hour journey from northern Spain, he enthused, "We had a great experience with the company! They have the experts on hand and were very reactive ‒ any modifications we asked for were done immediately."
Although a major milestone has been reached, Thierry's work doesn't stop here. Once further girders have been delivered, he'll work as part of a team on the creation of an entire EBS cell 'mock-up' consisting of four girders assembled with magnets, vacuum chambers and instrumentation.
"On a computer program it's easy to fit all the components together but a real-life simulation will ensure that everything really fits and will help us to define an assembly procedure," explains Thierry Brochard
Installing the 'mock-up' will take until autumn 2017. For now though, there's unpacking to do.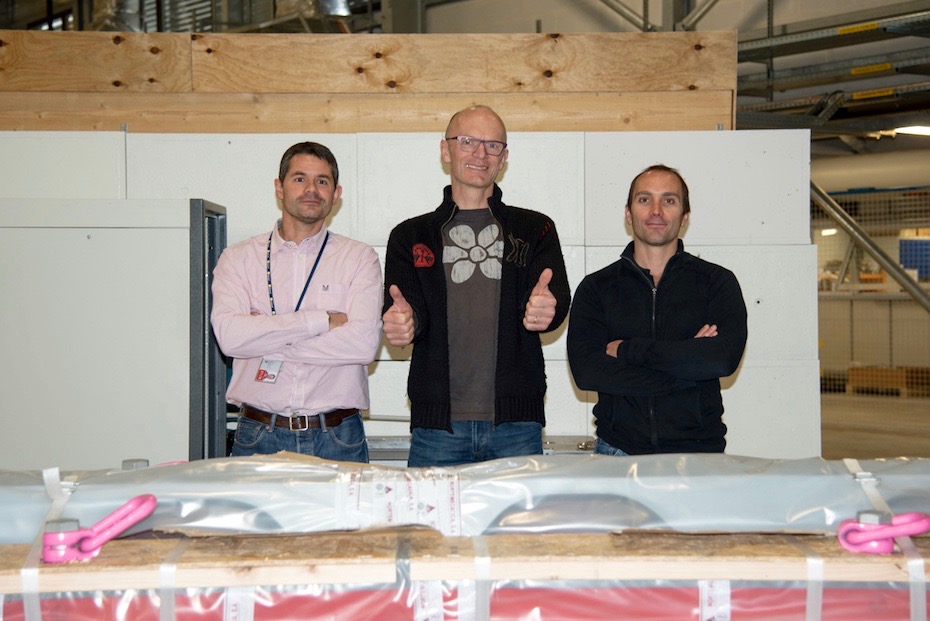 Thierry (centre) and members of the EBS Logistics team Benoit Joly (left) and Pascal Renaud (right) celebrate the successful delivery of the first EBS girder – @C.Argoud